Armin Hodzic
April 17, 2010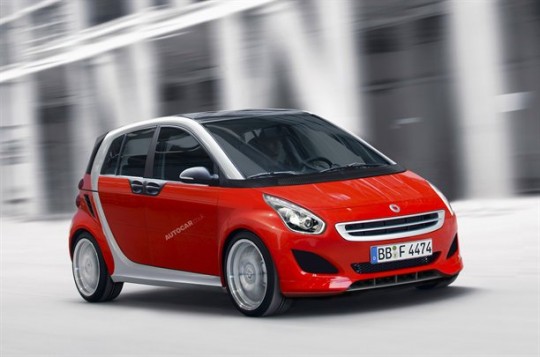 Everybody enjoyed the Smart's Fortwo, which has prompted smart to increase its vehicle lineup. One way they'll try this is by re-introducing the Fortwo into the market. It will be very similar to the current Fortwo, but will use a lengthened version of the Fortwo platform, complete with its rear-engined/rear-drive layout. It will share this platform with Renault's next Twingo and will be built alongside it at Renault's factory at Novo Mesto, Slovenia.
The Forfour also adopt a combination of conventionally hinged front doors and sliding rear ones; the latter set-up was previewed on Mercedes' F800 Style Geneva show concept. Inside, the Forfour will provide seating for four adults. As with the Fortwo, the seats will be set high for ease of entry. Luggage space will be limited, with the boot compartment sitting above the engine at the rear. But fold-down rear seats will be standard, allowing owners to tailor the space to their own requirements.
Power for the new Forfour will come from a new range of four-cylinder petrol and diesel engines that are under development as part of the Daimler/Renault-Nissan co-operation. Set to range in capacity from 1.2 to 1.8 liters, the new direct-injection petrol and common-rail diesel units will find their way into a wide range of compact Mercedes, Nissan, Renault and Smart models. In both Smarts, the engines will be mated to a dual-clutch gearbox.
Smart is also planning to provide the new Forfour with hybrid and plug-in electric driveline options as part of a broader strategy aimed at lowering Mercedes' overall fleet CO2 average to below 140g/km by the middle of the decade, in line with EU emissions regulations.
The Forfour would be release sometime in 2014. Watch for it!

via: AutoCar