Kharl Prado
April 13, 2010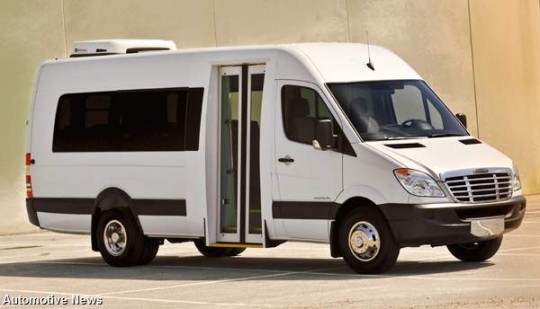 What better way to transport your family of fifteen than on the new Daimler Sprinter. Boasting of a 16-passenger capacity, this van is designed to rough it out on hotel shuttle duties, paramedic transport and any other job that requires plenty of cabin room plus, reliable service.
Spokesman for Mercedes-Benz USA Dan Barile reveals that the Sprinter will offer four interior configurations to boost its versatility. These would include a wheelchair lift that'll be able to stand up to eight people's weight.
The Sprinter promises to be one of the toughest, full-sized vans getting 188 horses from a 3-liter V6 turbodiesel. It's part of Daimler Vans' fleet of heavy-duty vehicles including 12-passenger vans. As a subsidiary of Mercedes-Benz USA, Daimler Vans also offers semi-knockdown kits for the Sprinter, which is available in cargo, chassis cab and passenger van models.
For those keen on converting their Daimler Sprinter into a shuttle van, Daimler Buses North America is the authority. They'll let you choose between a 15- and 16- passenger seating configuration plus electric, split passenger door types to replace the old sliding door.
If you're interested, simply head on down to any Mercedes-Benz or Freightliner dealer that offers the Sprinter lineup.