Kharl Prado
April 21, 2010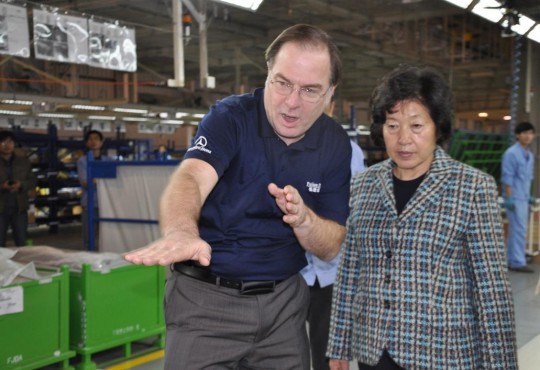 Daimler AG's seeds of trust and labor have borne fruit, and comes in the form of the new Mercedes-Benz Viano transporter. Fresh from the production lines of Fuzhou in the Fujian province of China, the Viano is the first customer vehicle of the partnership between Daimler AG, Fujian Motors Group (FJMG) and China Motor Corp. (CMC).
The joint venture, dubbed the Fujian Daimler Automotive (FJDA), started way back in 2007, is well accepted by the Chinese government and businessmen. Chairman of FJMG and FJDA, Mr. Lian Xiaoqing, appreciates the commitment of the employees plus the outstanding support given by both departments of government and FJDA shareholders.
Ulrich Walker, Daimler Northeast Asia Chairman and CEO, adds that the Mercedes-Benz Vito/Viano and Sprinter multipurpose vans are going to be a hit in China, where families and businessmen recognize the value of a high-quality, versatile vehicle. With China's booming economy, the needs for such vehicles will rise, and the Vito/Viano and Sprinter will be there to lead the race.
As of current, the Vito/Viano and Sprinter model vehicles are assembled using as much as 40 percent of parts shipped from Chinese-based suppliers, and conform to Mercedes-Benz's Production System standards of quality and efficiency.