Kharl Prado
April 14, 2010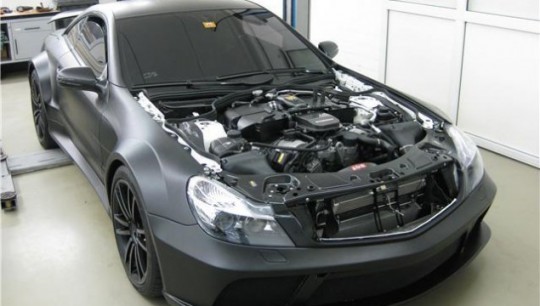 Owning a Mercedes-Benz is one thing. Taking it to the next level is another. But how are you going to deal with a Benz that's already sickeningly fast? We're talking about the Mercedes SL65 AMG Black Series. This baby can hit 62 miles per hour in just 3.8 seconds, while having the capability to accelerate up to a 198.8 miles per hour top speed.
So what do you do to get such an already impressive machine to become even more impressive. You go to BRABUS, of course. Next to AMG, BRABUS has the means and ends to turn your already out-of-the-ordinary Mercedes-Benz into something that's even more sinister and death-defyingly powerful.
Considering the stock SL65 AMG Black Series already has around 670 horses in its stable, it is a wonder how BRABUS is able to tweak it up past the 800-hp mark and break the speed ceiling beyond 200 mph.
That's enough power to send smoke down the front grille of any driver who's dumb enough to make a mistake up against it.
Details of the BRABUS VANISH Mercedes-Benz SL65 AMG Black Series are scarce, expect for larger snails, new transmission, more powerful brakes (duh!) and a freer flowing exhaust.