Muamer Hodzic
April 10, 2010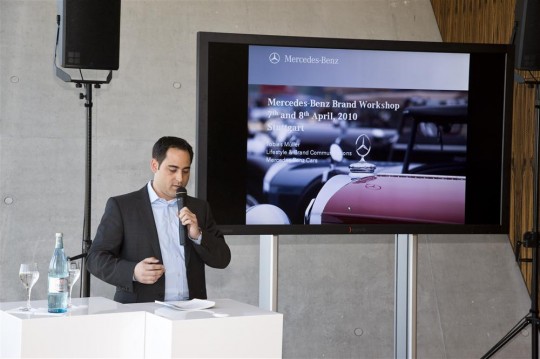 Mercedes-Benz kicked off their first ever Brand Workshop this week in Stuttgart. We were among the bloggers to participate in the two-day event, and will now try to give you a short but sweet outline of what took place.
You might be surpised when I tell you that there were only about three or four automotive bloggers in the group of roughtly 30 participants. Besides BenzInsider, an associate from our good friends over at eMercedesBenz.com was there, as well as Rob from CarDomain.com. The rest of the participants was a mix of art, fashion, design, and green news bloggers.
(That's me talking to the futurologist Alexander Mankowsky)
So why leave out the other automotive bloggers? Simple, Mercedes-Benz is more than just a car company, they are the trend setters, the artist, that use cars as the canvas for fashion and design. A topic that would take hours to explain; a topic that was explained to us in the Mercedes-Benz Museum by futurologist Alexander Mankowsky and his "European Luxury" presentation.
The private Museum tour was very entertaining, but also educational at the same time. It sure didn't hurt having the director of the Museum as the tour guide. While I've been at Museum in 2007, I was stuned at how much I missed last time I went and how much there is still to know. If you were to read and look at all the cars and artifacts in the Museum, it would take you around two full days to do it. If you ever happned to be close to Stuttgart, I would urge you to go and visit the museum. Not only will you see hundreds of vehicles, but you'll see how and where the automobile was invented.
After our Museum tour, we were taken to events center at the top floor of the Mercedes-Benz Museum, overlooking a beautiful panoramic view of the city of Stuttgart. After dinner, I spent the next four hours talking to the futurologist Alexander Mankowsky, Philipp Deppe from blog.mercedes-benz-passion.com as well as many other blogger and MB employees.
That was mostly what happened on day 1, a kind of introduction if you want, before we get to the real deal – Mercedes-Benz Design Center and the vehicle test drives at the Malmsheim Airport. I will write about that a bit later, as I am dead tired right now.