Leo
March 11, 2010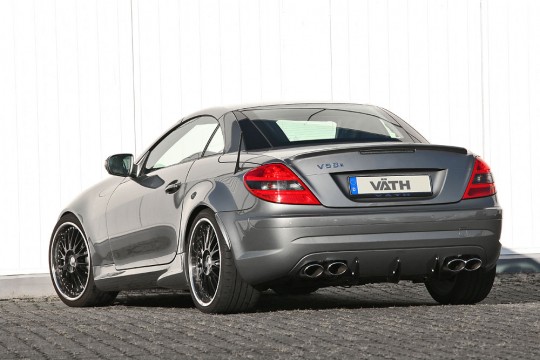 German modification specialist VATH has just introduced its V58 version of the Mercedes Benz's SLK 55 AMG Roadster.
VATH's upgraded version increased the stock model's 5.5-liter engine displacement to 5.8 liters, adding a compressor and a customized electronic control unit and exhaust system, among others. The regular 360 horsepower push output and 510Nm torque has been kicked up to 565HP and 770Nm, allowing the new V58 SLK a top speed of 193 mph (310 km/h). The engine package delivers a similar whack on the wallet, too, with VATH valuing the new Roadser at $42,045 (about 30,785 euros).
The converted V58 SLK also comes with other performance-enhancing additions such as VATH's revolutionary fuel cooler and a locking differential that's optional. Additional interior and exterior upgrades include a high-performance braking system, a carbon front spoiler, interior trim set, modifiable lowering kit, rear diffuser, VATH's original sports steering wheel, and 19-inch alloy wheels (front and rear tire size at 2235/35 and 275/30, respectively).
If you purchased a brand new SLK 55 AMG in Germany today, it'll set you off for about $96,800. VATH's SLK V58 upgrade, on the other hand, will cost you a whopping $172,670, and that's not including those spanking new wheel and tire set yet.