Leo
March 16, 2010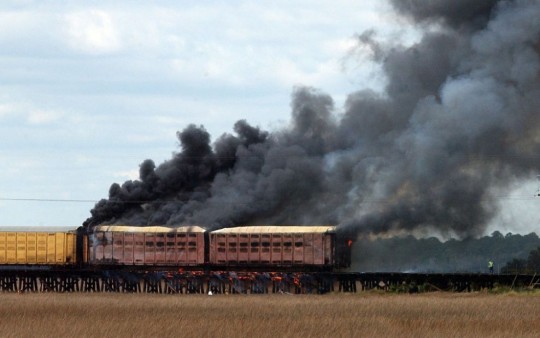 Two train cars, ferrying Mercedes-Benz automobiles from its manufacturing plant in Vance, Alabama, caught fire in Glynn Country, Georgia yesterday afternoon.
A county spokesperson said the fire started at 2:30 p.m. and lasted until 4:00 in the afternoon. Firefighters were hampered by the fact that the fire happened in the midst of the marsh on the rail trestle headed towards the shipping terminal in Colonel Island. Fire officials had to connect the hoses of the pumper trucks from a long way away for the water to get to the fire site.
Additionally, the tracks were so warped from the intense heat that railroad officials and firefighters were unable to disconnect and move the other train cars away from danger. The source of the fire is still unknown as of press time.
Ports authority said the Mercedes-Benz cars were scheduled for export.