Muamer Hodzic
March 5, 2010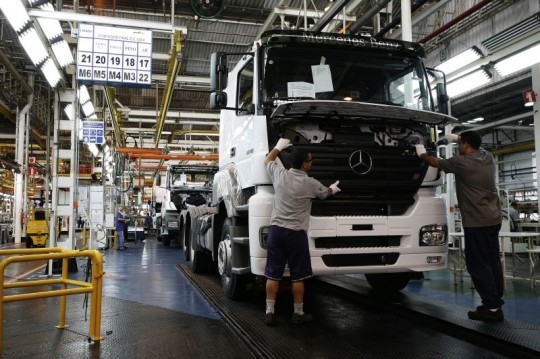 Mercedes-Benz do Brasil signed a contract today with the Brazilian bank BNDES for a loan in the amount of roughly €460 million. Mercedes-Benz will use these funds to expand its production capacity at the Sà£o Bernardo do Campo plant near Sà£o Paulo. Trucks, bus chassis, engines, transmissions, and axles are produced at the plant. Production capacity at the largest and most advanced production facility in Brazil will increase to 75,000 units per year. This corresponds to an increase of about 15 percent.
With the massive investment in the production facility in Sà£o Bernardo do Campo, the Brazilian Mercedes-Benz plant is gearing up to meet the growing demand for commercial vehicles in Brazil.
Over the last few months, Mercedes-Benz do Brasil has hired around 1,400 new employees to ensure that it is also prepared from a personnel standpoint to meet the growing demands of the commercial vehicle market. "Brazil is a market with tremendous growth opportunities. We intend to fully exploit this potential,which is why the expansion of our production capacity is the right step at the right time. We are especially pleased with the new job positions that have been created in the country," says Hubertus Troska, Head of Mercedes-Benz Europe and Latin America at Daimler Trucks.
Mercedes-Benz do Brasil, an established name in Brazil since 1956 and the largest Mercedes-Benz truck plant outside of Germany, is turning to BNDES for the funding so it can make the new investments within a narrow time frame. The Brazilian Development Bank (BNDES) is a federal public company closely linked to the Brazilian Ministry of Development, Industry, and Foreign Trade. Its goal is to provide long-term financing for projects aimed at enhancing Brazil's development and therefore improving the competitiveness of the Brazilian economy and the standard of living of the Brazilian population.
Jürgen Ziegler, President of Mercedes-Benz do Brasil, also sees the investment as being directly related to the economic upswing and the good prospects in Brazil. "We will invest the funds in our production activities in Sà£o Bernardo do Campo, but we will be doing more than just expanding a certain production capacity. Another goal is to modernize our production, logistics, and service units," stresses Ziegler.
Funds will go toward the development of new components and technologies at the Mercedes-Benz Technology Center, which is the largest and most advanced research and development center for trucks and buses in Brazil and is based in Sà£o Bernardo do Campo.
By so doing, the company hopes to further expand and improve its future product range. One of the aims is to ensure compliance with the Euro 5 environmental standard, which in Brazil is called "Conama P7."
Some of the money will also be spent on addressing social concerns. For example, the Employee Development and Training Center at the site will be expanded so that more skilled staff can be trained to an even higher level of technical proficiency in the future