Muamer Hodzic
March 12, 2010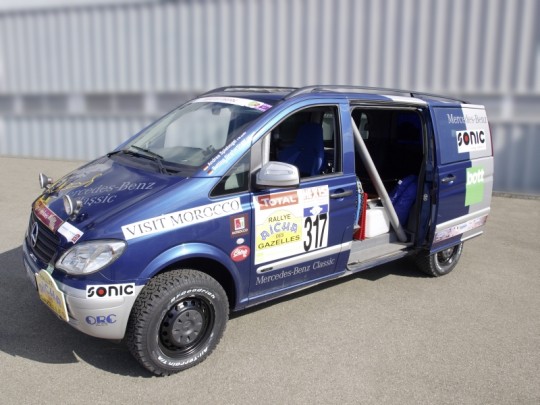 Bettina Singhartinger and Andrea Spielvogel, two female Daimler AG employees, left Stuttgart in their Mercedes-Benz Viano 4matic today to join the official lineup for the Aicha des Gazelles women's rally. After a short sea-crossing from Sete, France to Tangiers, Morocco, followed by the team presentation and technical verification on 18 March, the Aicha des Gazelles Rally will start off and end in Essaouira on Morocco's Atlantic coast on 27 March 2010. "I have enormous respect for the challenges to come," says Andrea Spielvogel, who works in information technology. Her colleague Bettina Singhartinger, a communications employee, adds: "This is probably the greatest adventure I have ever let myself in for." Another highlight awaits them even before the start of the rally: the ship with all the participants and equipment will be the very first to dock in the newly constructed harbor in Essaouira. The king of Morocco has also confirmed that he will be present to welcome the rally participants in person.
The Aicha des Gazelles Rally
The "Aicha des Gazelles Rally 2010" is organised by women for women, and its patron is the king of Morocco. A total of 30 mainly African nations are taking part. The route covers a distance of almost 2500 kilometres, and there are seven stages. In contrast to other competitions of this kind, the key requirement of the Rallye des Gazelles is navigation using only maps, coordinates and a compass – without the aid of GPS. It is not the fastest team that wins, but rather the team that finds the shortest route between the checkpoints in the given time. There are penalty points if a detour is taken, technical assistance is requested or any checkpoints are missed out. Overnight stops during the two marathon stages of the rally are spent in the desert. Helping each other is very much in the spirit of this rally, which has a humanitarian purpose. All the takings go to a charity which subsidises mobile clinics, orphanages and the construction of wells in Morocco. The "Gazelles" also bring many tons of donated items to Morocco with them each year, and these are distributed during the rally.