Muamer Hodzic
March 11, 2010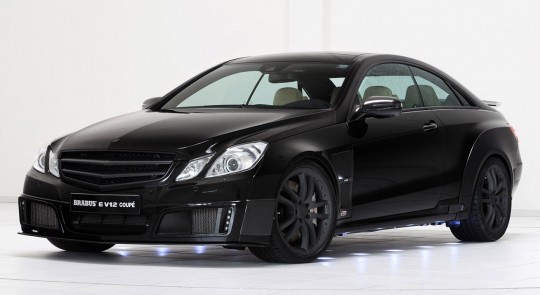 Well if you thought the Kicherer tuned E-Class Coupe is something, then you've obviously not seen the Brabus tuned Mercedes-Benz E-Class Coupe. The top Mercedes-Benz tuner raised the horsepower number to 800, yes you are reading that correct, it will be powered by a 6.3 liter Brabus SV12 R Biturbo V12 that pumps out 800 hp with 1,420 Nm of torque.
The basis for this engine is the twelve-cylinder twin-turbo engine from the latest Mercedes 600 models. Displacement of the engine is increased from 5.5 to 6.3 liters (336 to 384 cu. in.) with the help of a special crankshaft, larger cylinder bore and correspondingly larger pistons. Both three-valve cylinder heads are optimized for mixture flow, and fitted with sport camshafts.
Performance of the coupe is as exceptional as that of the four-door model: The BRABUS E V12 Coupe sprints from 0 – 100 km/h (62 mph) in just 3.7 seconds, to 200 km/h (124 mph) in 9.9 seconds, and reaches 300 km/h (186 mph) after a mere 23.9 seconds. For street-legal use the top speed of the Gran Tourismo is limited electronically to 350 km/h (217 mph). Without the limiter the two-door twelve-cylinder car is capable of speeds in excess of 370 km/h (230 mph).
The BRABUS designers went into the wind tunnel to develop a body conversion kit made from high-strength yet especially lightweight carbon fiber. The front was designed to reduce lift on the front axle and to provide all radiators of the V12 with an optimal supply of cooling air. Air outlets in the sides route the air quickly away from the heat exchangers. Another important design feature was to provide the front brakes with cooling air. Integrated LED daytime running lights further increase active safety.
E-Class Coupe will be capable of reaching speeds in excess of 370 km/h (230 mph) starting at 478,000 Euros MSRP.