Muamer Hodzic
December 22, 2009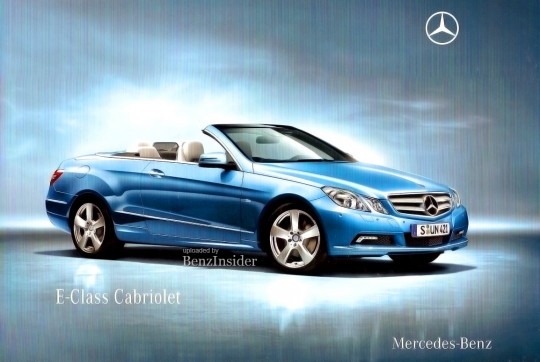 We've seen many spy shots and computer renderings over the last few months, but this is one of the first we've seen an official ad of the 2011 Mercedes-Benz E-Class Cabrio. As you can see, the car looks very much like the new Coupe, which in my opinion is good thing, as the new Coupe looks and feels amazing. The new Cabrio will be about 10 cm longer than the current CLK Cabrio – what remains the same though, is the traditional folding soft top.
The engine lineup should stay the same as with the Coupe, which means 4, 6 and 8-cylinder engines with outputs of 150kW/200hp to 285kW/382hp. The top end model will be the E500 (or E550 for the US). If everything works out, we might even see an AMG version in the next few years.
A huge Thank You goes to our very own 'Insider'. This is an awesome Christmas Gift !!!