Muamer Hodzic
April 27, 2009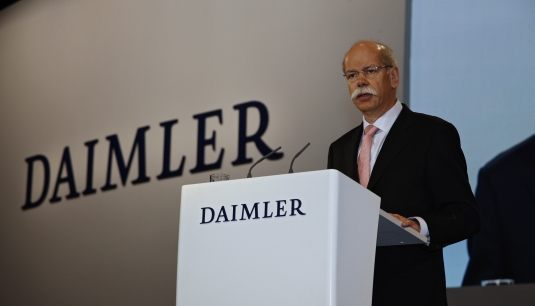 Today, Daimler's remaining 19.9% shareholding in Chrysler will be sold, meaning that Daimler will no longer hold any stake in the Chrysler Group. Daimler will also forgive repayment of the $1.5 billion loan extended to Chrysler, which were already written off in the 2008 financial statements. In addition, Daimler has agreed to pay US $200 million into Chrysler's pension plans today and in each of the next two years.
Chrysler and Cerberus agreed to waive any claims that might arise from representations and warranties made when Daimler sold the majority stake to Cerberus, including the accusations made against Daimler in 2008 that Daimler allegedly improperly managed certain issues in the period between the signing of the agreement and the conclusion of the transaction.
The nightmare has finally ended, but only after billions of losses for both companies. Thanks to Dr. Zetsche for pulling Daimler out of a sinkhole. This chapter can finally be close now, let's turn our attention where it should be – the future and current recession.
Press Release:
Stuttgart – Daimler AG (stock-exchange abbreviation DAI), Chrysler,
Cerberus and the US Pension Benefit Guaranty Corporation (PBGC) signed a
binding term sheet on April 27, 2009 covering issues still pending between
the parties in connection with Chrysler.
Under this agreement, Daimler's remaining 19.9% shareholding in Chrysler
will be redeemed and Daimler will forgive repayment of the loans extended
to Chrysler, which were already written off in the 2008 financial
statements.
In addition, Daimler has agreed to pay US $200 million into Chrysler's
pension plans on the date of the execution of definitive agreements and in
each of the next two years. In this way, Daimler is helping to secure
pension payments to former employees of DaimlerChrysler. The existing
pension guaranty of US $1 billion vis-??-vis the PBGC will be reduced to an
amount of US $200 million and will remain in place until August 2012.
Chrysler and Cerberus waive any claims that might arise from
representations and warranties made in the transaction of August 3, 2007,
including the accusations made against Daimler in 2008 that Daimler
allegedly improperly managed certain issues in the period between the
signing of the agreement and the conclusion of the transaction. This also
applies to the accusation that incomplete information was provided on the
transaction.
Following the transfer of the term sheet into the final definitive
agreements, the relationship between Daimler and Chrysler will solely
consist of supplier-customer relations, including limited support for
certain dealer financing until the end of September 2009, as well as
certain guaranties.
The effect on EBIT resulting from this agreement, which will be reflected
in Daimler's financial statements for the second quarter of 2009, is
estimated at up to US $0.7 billion. The payments to be made in the years
2009 through 2011 amount to US $200 million per annum.
Further information on Daimler is available on the internet at:
www.media.daimler.com
This document contains forward-looking statements that reflect our current
views about future events. The words 'anticipate,' 'assume,' 'believe,'
'estimate,' 'expect,' 'intend,' 'may,' 'plan,' 'project,' 'should' and
similar expressions are used to identify forward-looking statements.These
statements are subject to many risks and uncertainties, including a lack of
improvement or a further deterioration of global economic conditions; a
continuation or worsening of the turmoil in the credit and financial
markets, which could result in ongoing high borrowing costs or limit our
funding flexibility; changes in currency exchange rates and interest rates;
the introduction of competing, fuel efficient products and the possible
lack of acceptance of our products or services which may limit our ability
to adequately utilize our production capacities or raise prices; price
increases in fuel, raw materials, and precious metals; disruption of
production due to shortages of materials, labor strikes, or supplier
insolvencies; a further decline in resale prices of used vehicles; the
effective implementation of cost reduction and efficiency optimization
programs at all of our segments, including the repositioning of our truck
activities in the NAFTA region; the business outlook of Chrysler, in which
we hold an equity interest and some of whose obligations we have
guaranteed; the business outlook of companies in which we hold an equity
interest, most notably EADS; changes in laws, regulations and government
policies, particularly those relating to vehicle emissions, fuel economy
and safety, the resolution of pending governmental investigations and the
outcome of pending or threatened future legal proceedings; and other risks
and uncertainties, some of which we describe under the heading 'Risk
Report' in Daimler's most recent Annual Report and under the headings 'Risk
Factors' and 'Legal Proceedings' in Daimler's most recent Annual Report on
Form 20-F filed with the Securities and Exchange Commission. If any of
these risks and uncertainties materialize, or if the assumptions underlying
any of our forward-looking statements prove incorrect, then our actual
results may be materially different from those we express or imply by such
statements. We do not intend or assume any obligation to update these
forward-looking statements. Any forward-looking statement speaks only as of
the date on which it is made.
About Daimler
Daimler AG, Stuttgart, with its businesses Mercedes-Benz Cars, Daimler
Trucks, Daimler Financial Services, Mercedes-Benz Vans and Daimler Buses,
is a globally leading producer of premium passenger cars and the global
market leader of heavy- and medium-duty trucks as well as buses. The
Daimler Financial Services division has a broad offering of financial
services, including vehicle financing, leasing, insurance and fleet
management. Daimler sells its products in nearly all the countries of the
world and has production facilities on five continents. The company's
founders, Gottlieb Daimler and Carl Benz, continued to make automotive
history following their invention of the automobile in 1886. As an
automotive pioneer, Daimler and its employees willingly accept an
obligation to act responsibly towards society and the environment and to
shape the future of safe and sustainable mobility with groundbreaking
technologies and high-quality products. The current brand portfolio
includes the world's most valuable automobile brand, Mercedes-Benz, as well
as smart, AMG, Maybach, Freightliner, Western Star, Mitsubishi Fuso, Setra,
Orion and Thomas Built Buses. The company is listed on the stock exchanges
in Frankfurt, New York and Stuttgart (stock exchange abbreviation DAI). In
2008, the Group sold 2.1 million vehicles and employed a workforce of over
270,000 people; revenue totaled EUR95.9 billion and EBIT amounted to EUR2.7
billion. Daimler is an automotive Group with a commitment to excellence,
and aims to achieve sustainable growth and industry-leading profitability.
27.04.2009 Financial News transmitted by DGAP