Muamer Hodzic
April 6, 2009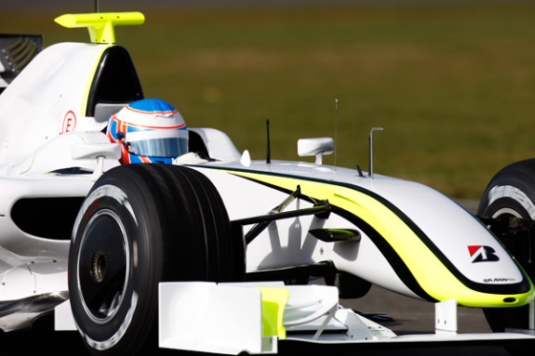 What a messy race that was yesterday in Malaysia. Due to torrential rain, the race was red-flagged on the 33rd lap and not restarted. Half points were awarded because less than 75 percent of the scheduled 56 laps (310.408 kms) had been covered. Brawn Mercedes driver Jenson Button took the second consecutive victory of the season. This is shaping up to be a great season for Jenson and his new team – Brawn GP. He won his third carrier race, and two of them were in the past two weeks; it seems those Mercedes-Benz engines are working better at Brawn GP than at Mclaren. Lewis Hamilton finished the Malaysian Grand Prix in Sepang in seventh place. Heikki Kovalainen retired on the opening lap after going off the track into the gravel. After two races of the 2009 Formula 1 World Championship, Jenson leads the drivers' ranking with 15 points; Lewis is 10th with one point.

The start: Lewis and Heikki started 12th and 14th on the grid respectively; both used the softer tire compound at the beginning. Lewis improved by two positions and was 10th after the opening lap. Heikki went off and got stuck in the gravel; he retired.
The race, lap 4: Lewis was passed by Sebastian Vettel (Red Bull Renault) and dropped to 11th.
Lap 9: Lewis overtook Nick Heidfeld (BMW Sauber) and was back in 10th place.
Lap 17: Lewis moved up to sixth, following the pit stops of Vettel (lap 13), Timo Glock (Toyota, lap 15), Mark Webber (Red Bull Renault, lap 16) and Kimi Rà¤ikkà¶nen (Ferrari, lap 18).
Lap 22: Rain began to fall. Fernando Alonso (Renault) went off and Lewis improved to fifth. He pitted for rain tires and resumed in sixth place; he had an exciting battle with Webber afterwards.
Lap 26: Glock who was on intermediate tires overtook Lewis who dropped to eighth. He pitted again one lap later and changed to intermediates; he rejoined the race in 10th place.
Lap 30: Heavy rain. Lewis pitted again and changed back to rain tires.
Lap 32: The Safety Car was deployed; one lap later, the race was red-flagged. Lewis was sixth. The race was not restarted and, according to the rules, the result was the ranking after 31 laps which meant that Lewis was seventh.
Comments
Lewis Hamilton
"It was a very tough call to change to full wets during my first pit stop because you could only see the clouds, and then some parts of the track were wetter than others so it was hard to commit. When the rain came down, it was impossible to drive. I was aquaplaning everywhere – these were the most dangerous conditions I've ever raced in. All I could do was try and keep the car on the track. It was the correct decision to stop the race because it was just too dangerous for everyone. I love it when it rains, but this was just too much."
Heikki Kovalainen
"My start was okay. I was taking it quite carefully and was trying to slot in behind Lewis, then I just lost the rear and spun out. It was my mistake. Game over."
Martin Whitmarsh
"The extremely changeable dry-wet conditions made today's race a very challenging one for all competitors – but, as ever, Lewis's ability shone brightly in the gathering gloom and the race brought another really impressive performance from him. He kept his head throughout, and the result was a hard-earned point for seventh place. That may not sound like a great deal by our usually high standards – but, given where he started, it's a step in the right direction. Overall, then, in testing conditions the team did a great job – as did Lewis.
Norbert Haug
"A race like a battle. Despite starting from the sixth row on the grid, Lewis was in good shape – and everybody who kept his car on the track in these conditions was a hero today. Congratulations to Jenson Button and Brawn GP on the second consecutive win with Mercedes power; which he both achieved from pole position."